Hello! My name's Coda and I have been dancing circles for quite a few months now… something the humans call 'dressage'. I like it because my riders, Dave and Ruth, seem very happy when they have a red ribbon to hold up. And also because I get yummy treats!
A little while ago, I was taken to a party at Epworth Equestrian Centre where I danced around and around. This time everyone seemed extra happy. Ruth won the regional championship and my Dave came a close third. So now we're off to the My Quest National Dressage Championships! Two riders and one horse… boy do I feel special!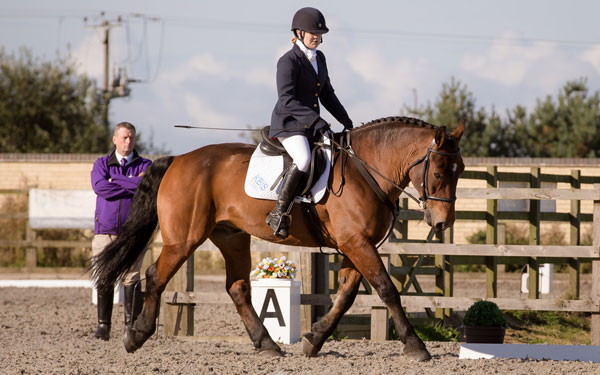 My riders have decided to take the opportunity to support Alzheimer's Research UK. It is a charity which is close to both their hearts. Ruth's grandmother passed away with mixed dementia earlier in the year and Dave's wife sadly lost her mum to Alzheimer's just last week. The charity works to find treatments and methods to prevent dementia. We want to raise as much money as possible for the cause – I'm very proud to be part of something so important
Things haven't always been like this though. I was bred in Poland for meat (luckily I didn't know what that meant). I am told that's why I have a generous waistline.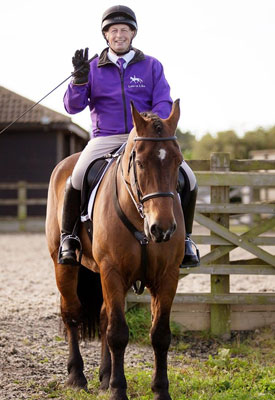 I have many humans to thank for where I am now. Firstly the owner of a riding school who bought me off the back of a wagon before I could meet my maker. She bought me to teach young adults to ride on my back, but I was too anxious and insecure. Soon I was sold again, this time to a novice adult where, although I was much loved, I had already become too much to handle with my unpredictable manners and insecurities!
Then along came Dave – 50-years-old and having a mid-life crisis. I have been with my family for three years now and what a lucky boy I am. I have gained confidence and trust and discovered a love of dancing! I have everything a horse could wish for – I live in a grass field with my horse friend Ellie, I get a manicure and new shoes every six weeks, yummy food and get to go out to lots of parties which Dave takes me to. Three months ago Dave introduced me to his friend Ruth; she's quite bossy with me but it's helped me to understand what my Dave is trying to ask me. And now they're both riding me at the championships!
I'm told I'm a super special horse because I'm helping to find a way to stop families from having to go through the heartbreak of dementia. If you'd like to help, you can support us here (can you send carrots through the internet?) You can find out more about our story here.
Coda
© 2017 – 2016, City Connect News. Copyright Notice & Disclaimer are below.